Battle Gem Ponies! The fully-animated action-packed RPG adventure! Where tons of Pony OCs duke-it-out like Pokémon!
Rotation battles, specialized move slots, new types, gym leaders specializing in strategies instead of types, EVs & IVs that can be altered with a slider instead of breeding, a balanced roster without intentional tiers, and a version of Eevee that can switch between any of the types at will! All ideas that went into this project's conception.
FEATURES: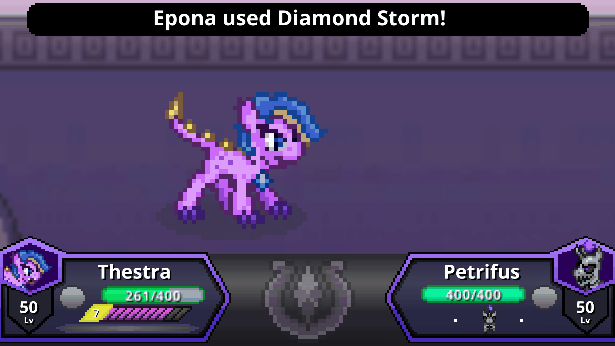 Fully Animated Battle RPG!
Every single pony and attack is uniquely animated to bring these pixel art battles to life!
Explore a Vast World!
An enormous, vibrant region awaits! Travel through deserts, mountains, forests, graveyards, and underwater temples on your quest through the Pinto region.
Power Up Your Pony!
Form a powerful bond with your shapeshifting pony companion and watch it grow stronger, learn awesome new moves, and take on the toughest of enemies.
Travel with Your Pony!
Surf across oceans and lakes with any swift-swimming ponies. Teleport to the nearest Health Center whenever you like with a simple phone call. Even have whatever pony is with you smash any boulders in your path, just because they all can!
Customize Your Team!
Choose who you take into battle from a selection of 60 Ponies and their Ultra Forms. You can alter their moves, stats, and equipment to become an unbeatable trainer!
Hundreds of Different Moves!
Using attacks grouped into Light, Heavy, Status, and Tutor slots that make you think more carefully about which moves to take into battle.
Discover the Secrets of the Legendary Alicorns!
Powerful, winged unicorns that embody the Sun and Moon are said to be the strongest ponies to ever live. People have wanted to harness their power for personal gain since ancient times. With recent advancements in technology, however, it might be easier than ever for their power to fall into the wrong hands...
Collect Badges and Save The World!
You'll have your skills tested by expert Mavens and fight for your life against the evil Paragon Cartel. Simple story objectives that fans of Monster RPGs will be familiar with, but perhaps with a few surprises along the way...
SCREENSHOTS: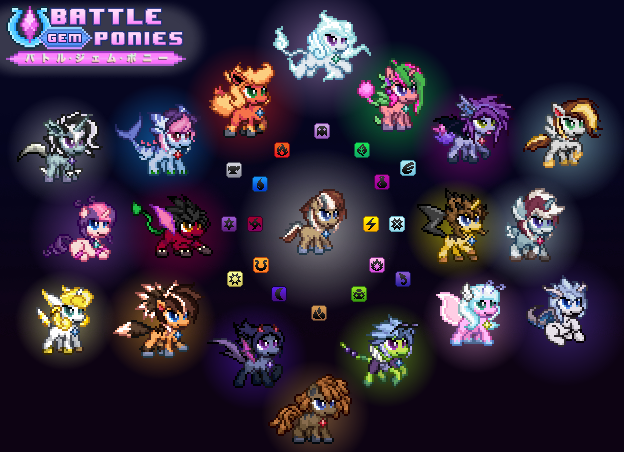 DOWNLOAD LINKS:
The latest current build is version 0.5.6, now available on Itch.io!
Available for Android, Windows, Mac, and Linux platforms.
Magfest Demo V0.5.6 (2/16/23)
Download:
https://yotesmark.itch.io/battle-gem-ponies
CREDITS:
Engine, Development Tools, & Plugins provided by Unity3D and its Asset Store
Orchestral Composition & Soundtrack
Euleom
Chiptune Composition, Soundtrack, & Sound Effects
Bluco
Video Editor
Confident Cow
Engine Architecture
Royal Pizza
Gameplay Programming
Psyaryu
Game Design, Production, Marketing, Pixel Art, Animation, & Writing
Tony Yotes
Find All the Yotes Social Pages On:
Linktree: @YotesGames