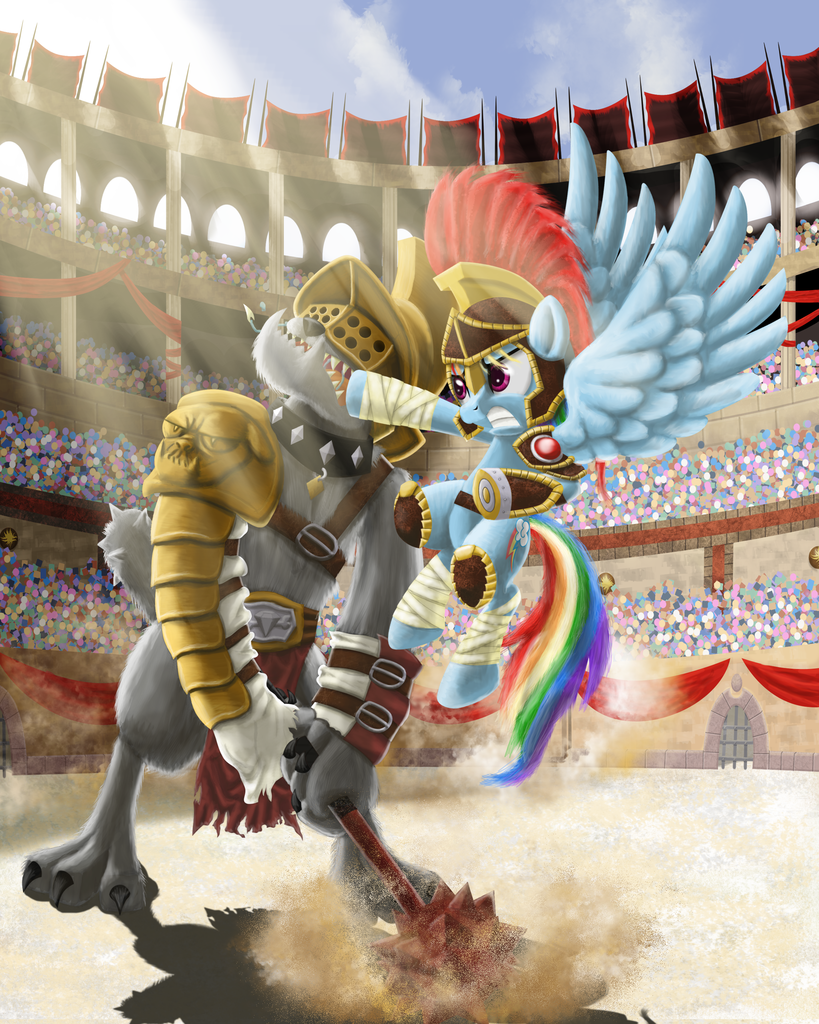 https://evil-dec0y.deviantart.com/art/V ... -563727443
Welcome to a little strategy series called COIN, about a government trying to put down insurgent uprisings. And welcome to Falling Sky, which seriously strains that description, but never mind that. Falling Sky is the sixth entry in the COIN series, revolving around the Gallic revolt against Caesar circa 54 BC. Four factions struggle for control over the region, and only one can prevail.
COIN is an asymmetric strategy game with open information. Every faction has some small (and not-so-small) differences in how they play. Not only will you have to know what you can do, you'll have to keep in mind what can be done to you.
The Rules:
http://www.gmtgames.com/fallingsky/Fall ... -Final.pdf
Playbook/Tutorial/Strategy Tips:
http://www.gmtgames.com/fallingsky/Fall ... _Final.pdf
Feel free to browse the rules to get a feel for things, but I'll be doing my best to explain as we go like always.
COIN is a game of strategy, but also of negotiation. COIN also encourages ganging up on the leader, so don't be surprised if your "ally" turns on you. Remember, it is still just a game. Try to keep your enmities at the door.
COIN is a game for
four
players, one playing each faction, which are:
Roman Republic:
Hail Caesar! He has decided to go on a little Gallic campaign, taking several of his legions with him. Rome plays the most differently from the Gallic factions. While the Roman legions are a powerhouse on the battlefield, the Senate is not as enthused about this whole thing as Caesar is, and they must be kept happy or they might decide to stop giving him those nice soldiers.
Arverni Confederation:
Led by the ambitious Vercingetorix, the Arverni cannot abide Rome coming in and bossing the place around. He must unite the Celts to drive Rome away! The Arverni can amass greater numbers than any of the other Gallic factions, and move them at a speed matched only by Rome. Finally, he can bring devastation to any region Caesar has his greedy eyes on.
Aedui Confederation:
The closest thing Rome has to an ally in the region. Or at least a problem they don't want to have on top of the Arverni. And heck, the Aedui's goals aren't
that
far away from Rome's. Working together can be profitable for both factions. On one hand, they are militarily the weakest, and have no leader piece. On the other, they are the one player faction that can't lose theirs.
Belgic Tribes:
What's that? A big war? Heck yeah Ambiorix wants in on this! Let's make with some murder! Oh and I guess you can help out the Arverni while you're at it. Don't want Rome subduing everything and making things boring. With Ambiorix leading the charge, your Warbands are twice the soldiers that any other Gauls are, and can even go toe-to-toe with Rome's Legions.
Germanic Tribes:
The Germans are NPC-only. They were led by Ariovistus. Then he died. Like any good NPC, they tend to interfere with everyone's well-laid plans. And also like a good NPC, they can sometimes be pointed at people you don't like.
If you would like to fight for (or against) the Gauls, post
##for Celtica!
If you have some preference on faction, go ahead and say so, but don't feel pressured to pick now. The Romans and the Arverni are the most involved factions to play.
Finally, we will need to pick a scenario, i.e. game setup and length. You will, on average, perform one action per two events.
The Great Revolt: 45 events over 3 years. The Belgae are nearly defeated, but the Arverni are poised to strike, with the Aedui trying to play both sides against each other. Recommended for 3 players.
Reconquest of Gaul: 60 events over 4 years. The "main" scenario. The Belgae are close to victory and Vercingetorix, despite being on Rome's doorstep, is yet to amass the forces he needs to make it stick. Rome has two pains in the side to handle, while the Aedui decide how much, exactly, they want to help.
Pax Gallica?: 70 events over 5 years. Things are peaceful... for now. But tensions are rising around the region and the Arverni will soon find themselves with a leader. This scenario lets you build up a little before the fireworks start.
Again, don't feel like you have to decide now.
Oh and feel free to pretend to be a talking horse general or something.